Opera for Kids
Some illustrations I did for a series of posters, banners and other materials. Cinderella (La Cenerentola), The Magic Flute (Die Zauberflöte) and Peter Pan are some opera shows for children staged by the National Romanian Opera in Cluj. Mobile phone photo proofs are on the posters page.
Hand drawn illustrations scanned and traced, adjusted and digitally colored, used as vector at every needed size from small flyers to large banners.
I also did the layout of the materials.
Click the images to zoom in.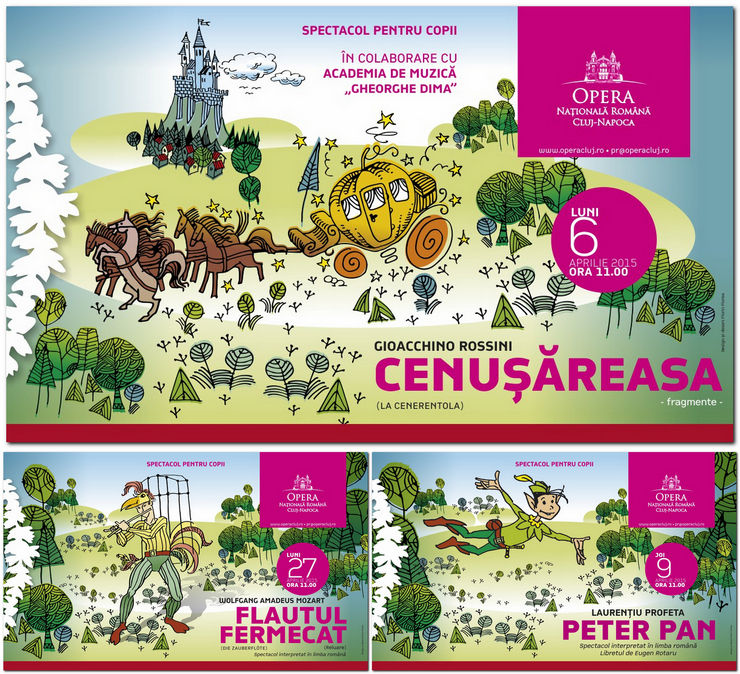 ---
Don Quijote
Image and layout for the banner and other promotional materials for the Don Quijote balet. Hand drawn, scanned and traced, adjusted and texture filled. Raedy for print at diferent sizes.
Click the images to zoom in and see some details.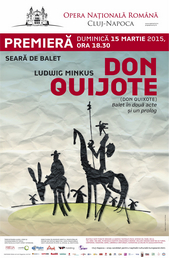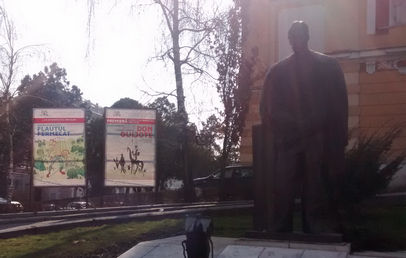 ---
Atzu the toddler
Some sketches I did for a logo. The toddler is called Atzu and that's the name of the company. The final drawing, a vector illustration, used as logo can be seen on the logos page.
Click the images to zoom in and see some details.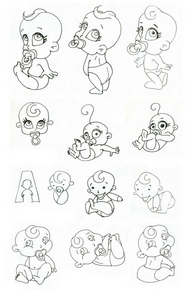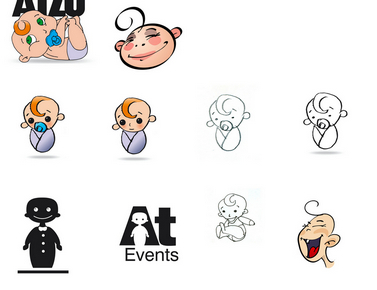 ---
Leprechaun
Just a drawing I did for myself. I would like to create the Illustrations for Children's Books, create the Book Covers. For now this is a Traditional Drawing and Digitally Colored.
Click the images to zoom in and see some details.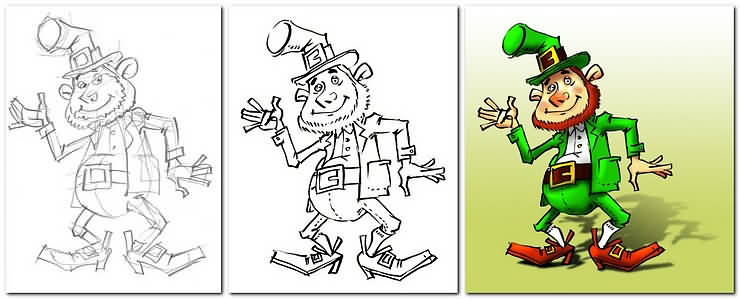 ---
Inkscape vector drawings
As I play a lot, lately, with Inkscape and my Intuos graphic table, I did some drawings that I'm showing below. This one is a coloring tutorial for vector drawings. Also on my blog. The steps written below are "chunks - as the drawing is done", "combined", "separated" and "colored".
Click the images to zoom in.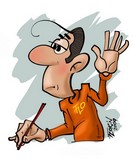 ---
Some more vector drawings
I did some vector drawings some time ago. The elephant was part of a website design. The round box was done just for fun, testing the possibilities of CorelDraw. The mug was done for a Guideline manual of a company to apply their logo on it. The Taj Mahal drawing was done for a website in Sri Lanka for Engligh Learning online school. The characters were done for an italian English Learning site. After drawing the basic body parts I have created a couple of configurations for them.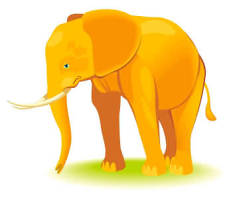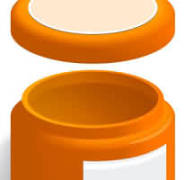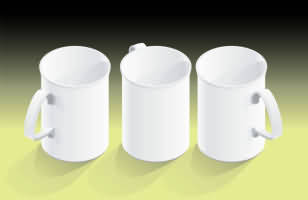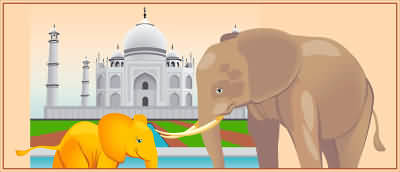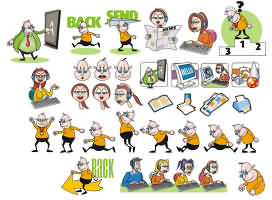 ---
The drawing from a "Coloring tutorial"
This is the drawing I did and used for the "Coloring a cartoon drawing (raster image)" tutorial that I have posted on SXC. The image shows the original drawing and the final colored image. I hope to do more tutorials some day. Maybe on my blog.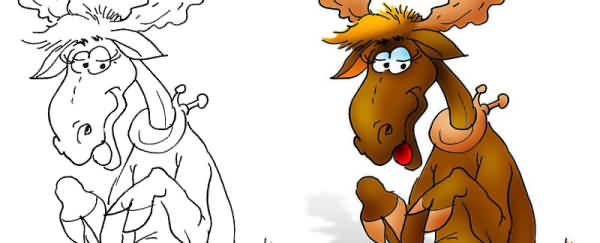 ---
3D logo image - a tutorial test
This is the vector image I have created in CorelDraw based on a tutorial for Adobe Illustrator. I wanted to see if I can do it in CorelDraw and if it looks the same or not. I think there very few differences between these programs these days. The reddish logo below is the original, from the tutorial. Above it is the URL to it. The others are the steps in its creation. This is not my logo design.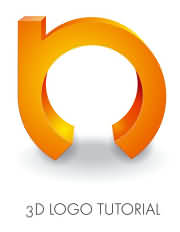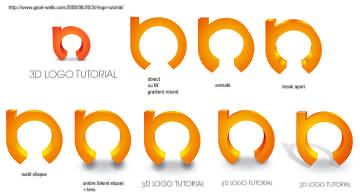 ---
Christmas Greeting Card
This is an old drawing (2000) that I used for a Christmas Greetings Card (in 2003).
I am placing it here to showcase my drawing process. The first image is a sketch, then the drawing that I have scanned and digitally colored.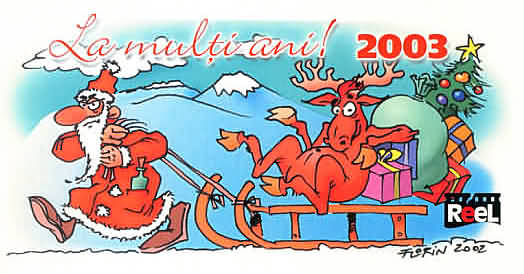 ---
Ball Point Pens
I did these vector drawings for a client, to demonstrate the use of his company logo.
Click the image on the left.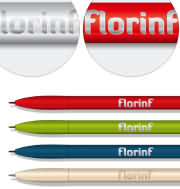 ---
Vector drawings - Buildings for a potential map
This is an exercise I did (vector drawing). I saw a tutorial for buildings for map on the net and I thought I should try to see if I can do something like that. I have used a different angle so it's completly different now. I did the top view, then created the 3D look and colored them. After that I added some details (windows and church roof) and refined it with grass and alleys.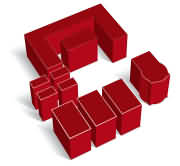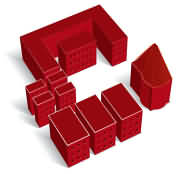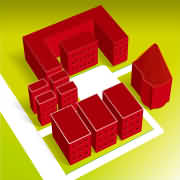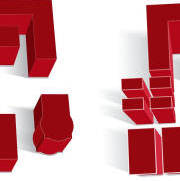 ---
Designers' Diploma (Certificate)
This was a diploma we offered to all our 1-st grade students on 5-th of December 2008 ("Designer's Day" at our Design Department). I did all the cartoon drawings, text and layout. The students are a miss brush and mister pencil. Teachers are more (or less) accurate (or rigid) tools. I did the drawings in a traditional way, pen and marker on paper, scanned it, made the composition and then digitally colored it with my Wacom tablet. Text was added later.
Each of the 4 images below will open a bigger preview.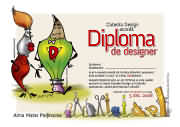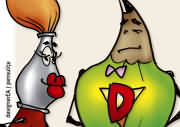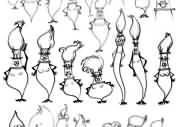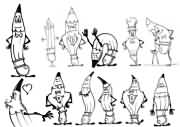 ---
Ajax, drawings for a logo
Vector drawings for a logo. After some research for the name of the company I came up to some warrior drawings on pots from ancient Greece. I enjoyed drawing it. There have been many variations for the logo. Friend of mine, designer Urcan Catalin helped me with some suggestions. These are the final drawings, based on this talk.

Click the 3 samples above.
---
Exhibition/Fair Stander
Had to do a 3D illustration of an exhibition/fair stander. I have started pencil on paper and then worked through to a vector drawing that I have further developed into a 2D raster image. Also placed an advertising on it (as an example). Client had it's own. This is not done in 3D software.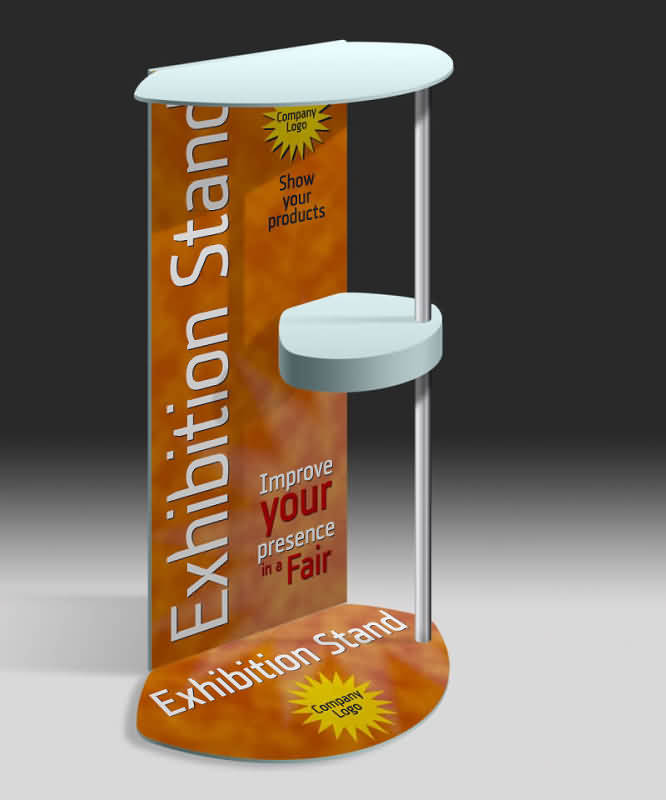 Click the 3 samples above.
---
My Firefox T-shirt Contest entries
These are my entries in the Firefox T-shirt Contest. I enjoyed doing them. I like Firefox very much. Click to see all of them. Thery are also on my Flickr page. You can see and vote the 5 finalists on Mozilla store site.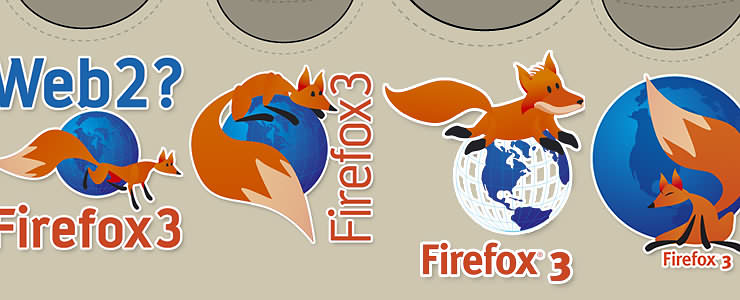 ---
Stock images
Since November 2007 I decided to offer images for free on a stock site. It works great and I had 30.000 downloads in 3 months. Then I thought maybe I should try selling some. Here are 15 (some) of the images for sale that I have uploaded on stock sites.

---
BYTE - IT magazine, Romania
These are some of the editorial illustrations I did for BYTE Romania Magazine. Unfortunately this magazine no longer exists. The drawings were entirely done on computer in vector drawing software and saved as EPS for print. The preview is a bit crowded, please click to see the bigger image. They were done for several, different articles.

---
Alo Magazine
A comic strip I did for the Alo magazine. It is about the birth of Jesus in a Christmas issue. This was entirely done in traditional art techniques and tools. It was then photographed at the printing house and manually registered, long time ago. Collaboration with AquaForte Publishing House.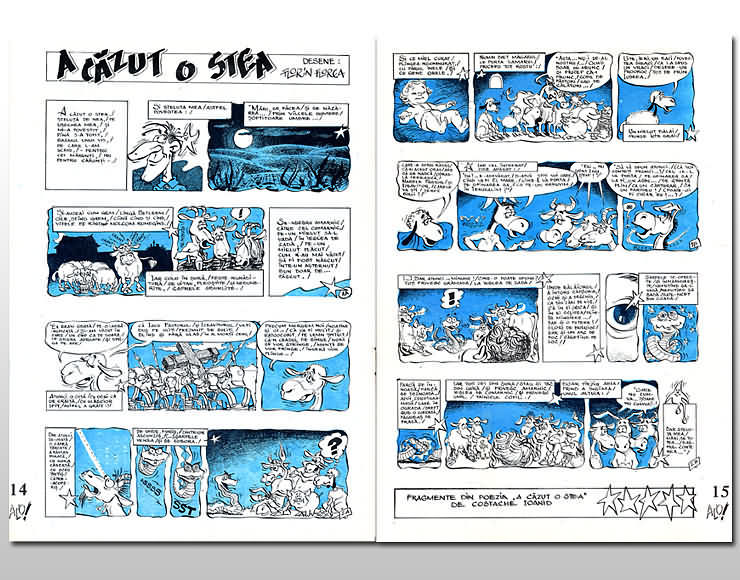 ---
Greetings
This is a (family only) Birthday Greetings that I did in 2 versions, one for my nephew and one for my sister in law (the one with grand father). Hey, that's me and my wife in it. :-)

---
Thanks.
Go back to the top of this page.